Yes, I know it's Valentine's Day and the timing of this post is cheeky. I just think love doesn't have to be expensive, ok? Haha!
I do think diamonds are sparkly and beautiful for the record. It's just not for me though. I can't envision myself with a big, pricey, sparkly rock which is ironic because I feel like my big, sparkly rock is pricey. I am clumsy. I use my hands a lot. I lift weights. Plus, I wouldn't feel safe wearing something that might catch the eye of someone who might want to take it off my finger. I also think they are extremely over-valued and I feel like money could be spent better elsewhere.
I had looked at rings before my fiance proposed mainly because he told me to. He wanted me to give him ideas of what I liked. Hell, I didn't even know what I liked! I looked at man-made diamonds, alternative precious gemstones and diamond look-alikes.
The first one I sent him was a $90 ring with a diamond look-alike. I thought he'd pick that one for sure. He hit the jackpot wanting to marry a woman who was fine with a $90 ring! Haha! He ended up selecting the most expensive ring that I sent him (US$975).  It had an oval tourmalinated quartz stone with a diamond pave band as seen below. I did some reading up on tourmaline quartz and found out it is a crystal with healing properties. It grounds you and shields you from negative energy. I thought that was pretty neat.

I got my wedding band off Etsy as seen below but in white gold. It was only $50 and I felt it would fit with the engagement ring since it has a notch where the stone would fit into.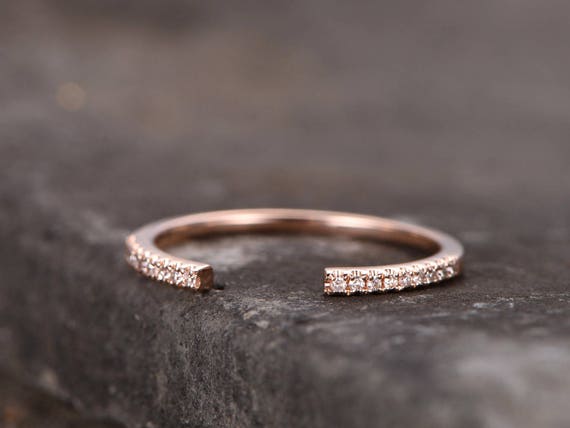 I also got a silicone ring that I can wear at the gym. I got one for my fiancé as well. I ordered it off Amazon for $20. I've been wearing it for 6 months now. So far, it's held up well through lifting weights and rowing.


I wish society didn't have the expectation of diamond rings for engagements. There's so much pressure on one party to save up money for something so expensive. Mother Nature has so much to offer that it'd be a shame if we focused solely on diamonds.